I've really screwed up most of my chess games. Out of the six games, four are definitely on the downhill. I look at the position, and roll my eyes. Don't feel like moving, as it's just another step into the quicksand. How did I get myself into such a sticky position? yikes.

*shudder*

I should go down for a jog or perhaps even a swim. It's such a beautiful morning today. But hubby is still fast asleep, and I don't feel at all motivated. The house is very nice now. We have gotten our solid teak writing table, and I'm now sitting properly upright. Goodbye neck pains! I hope. :P The floor is still badly done, but we are compromising on them doing carpet from wall to wall for us. Yeah, it's surrender on our part. What to do? Must write 2nd lawyer letter soon though.

Have you ever seen a Barbie doll cake? Quite amazing really. These 3-D cakes.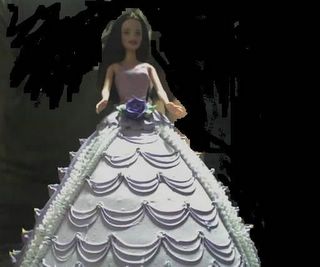 Yes. It's really a cake. You eat the gown, see. Chocolate cake init. Lots of icing. Very expensive cake. And that's a real Barbie doll stuck in it. Definitely. They rescued the doll by pulling out of the cake later. With shoes and clothes and all that. V liked barbie dolls, and purple colour. Those people who got that cake for her are really wonderful. I didn't get anything for her this year, because I figured she should have enough of dolls, but mainly because there were too many distractions too. So only an angpow. I guess I do feel a little bad. I should send her my ROM photo soon. Owed her since ... like last year. *bleah*

But it was nice catching up with good friends then. Hubby and I were rather ... lost for words to see HY so FAT. Yep, FAT. His wife sure must have pampered him with food. Or perhaps it's all junk food. I feed hubby almost everyday, thank goodness he doesn't bloom like that. hahaha.

There seemed to be less people visiting her this year. I feel quite paiseh to receive a present from her. The thought really counts. I must try harder next year! :P

I shall get an ice-cream cake for myself for my birthday. :P